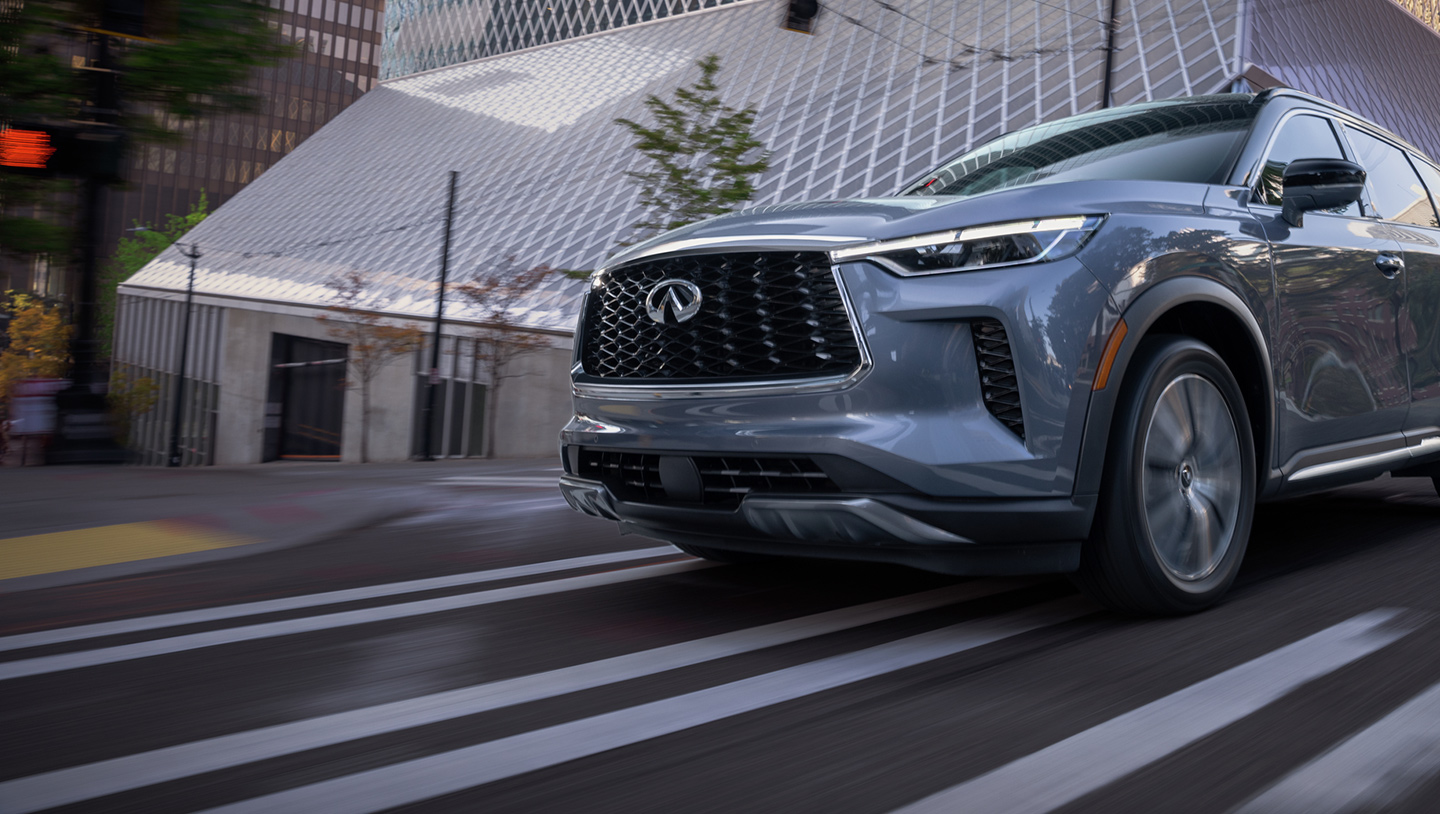 INFINITI IQ Technologies
Engine Technologies
Our engines provide optimal power, minimum fuel consumption and maximum exhilaration.
INFINITI VC-TURBO
Heighten the Senses
The INFINITI VC-Turbo is one of the most advanced internal combustion engines ever created. The variable compression ratio engine will establish new benchmarks for power, efficiency and emissions against which future powertrains will be measured.
Benefits of INFINITI VC-Turbo
Greater Fuel Efficiency
27% fuel efficiency improvement over non-VC engines.
Higher Output
268hp – a higher power output than many four-cylinder non-VC engines.
Less Vibration Noise
10DB vibration noise. That's an impressive 20DB lower than non-VC engines.
An Inspired Fusion of Both Worlds
Moving seamlessly between compression ratios, the INFINITI VC-Turbo engine responds to driving conditions and continuously adapts. It offers performance when you need it and efficiency when you don't.
8:1 Compression for High Performance
The astonishing power of a high-performance 2.0 litre gas engine.
14:1 Compression for High Efficiency
The torque and efficiency of a diesel.
Our Vehicles with VC-Turbo
INFINITI TWIN TURBO V6
Breathtaking Horsepower
This is the lightest, most powerful V6 engine INFINITI has ever created. It's also the cleanest and most fuel-efficient. Our Twin Turbo V6 Engine is engineered to take you beyond with breathtaking horsepower.
Benefits of INFINITI Twin Turbo V6
300 or 400 Horsepower
Our 3.0-litre Twin Turbo V6 is available in 300 and 400 horsepower. With advanced turbo technologies, it delivers unparalleled power, torque and fuel economy for an engine its size.

Immediate Acceleration
An electric motor improves valve timing by reducing any delay at the start of acceleration. This makes throttle response faster, so the feeling of flight can take hold in seconds.

Advanced Turbo Technology
Our Twin Turbo V6 includes a special turbo speed sensor that generates 10 percent more power. It allows the turbine to reach up to 222,000 RPM, so turbo speed peaks higher.

Maximizing Performance
The Twin Turbo V6's precision-cut design helps achieve maximum performance by quickly compressing and circulating the air within the turbochargers.
Our Vehicles With Twin Turbo V6
3.5 LITER V6 ENGINE
Performance for All Conditions
The INFINITI V6 direct-injection engine is 3.5-liters of brute strength, producing 295hp and 270 lb-ft of torque.
Benefits of a V6 Direct–Injection Engine
9-Speed Auto Transmission
The 9-speed automatic transmission with manual-mode paddle shifters lends itself to confident control wherever the Infinite Road might lead.

Drive Mode Selector
The QX60 offers five distinct drive modes, allowing you the luxury of swapping between Sport, Standard, Eco, Snow and Personal settings.

Idle Stop/Start
To reduce fuel consumption, the V6 automatically switches off the engine in traffic and then re-starts when you're ready to go.

Vehicles With V6 Direct–Injection Engine
V8 ENGINE
Smooth, Heady Performance
The INFINITI V8 engine is a 5.6-liter powerhouse and produces 400hp and 413 lb-ft torque. It gives you a smooth, heady performance that really comes into its own on freeways or when carrying cargo.
Benefits of INFINITI V8 Engine
Smooth, 7-Speed Transmission
The automatic transmission offers a seamless change up through the gears. You get pulling power at low speeds and strong passing power on the highway.

Higher Output
With an output of 400hp and 413 pounds of torque you've got muscular performance whenever you need it.

Outstanding Towing Capacity
The INFINITI V8 engine gives you a towing capacity of 8,500lbs. That's one of the highest figures for a large SUV.

Our Vehicles With the V8 Engine
Our History
We set out to create a new kind of luxury automotive brand, one which was a perfect blend of power, performance and artistry. We've never strayed far from our roots.

Design
Powerful elegance is at the heart of our design philosophy. The inspiration may come from art or poetry but the execution is always powerful and purposeful.

Making Our Marque
Discover the story behind our brand symbol. Find out what it means and how it's a visual representation of everything we stand for as a company.