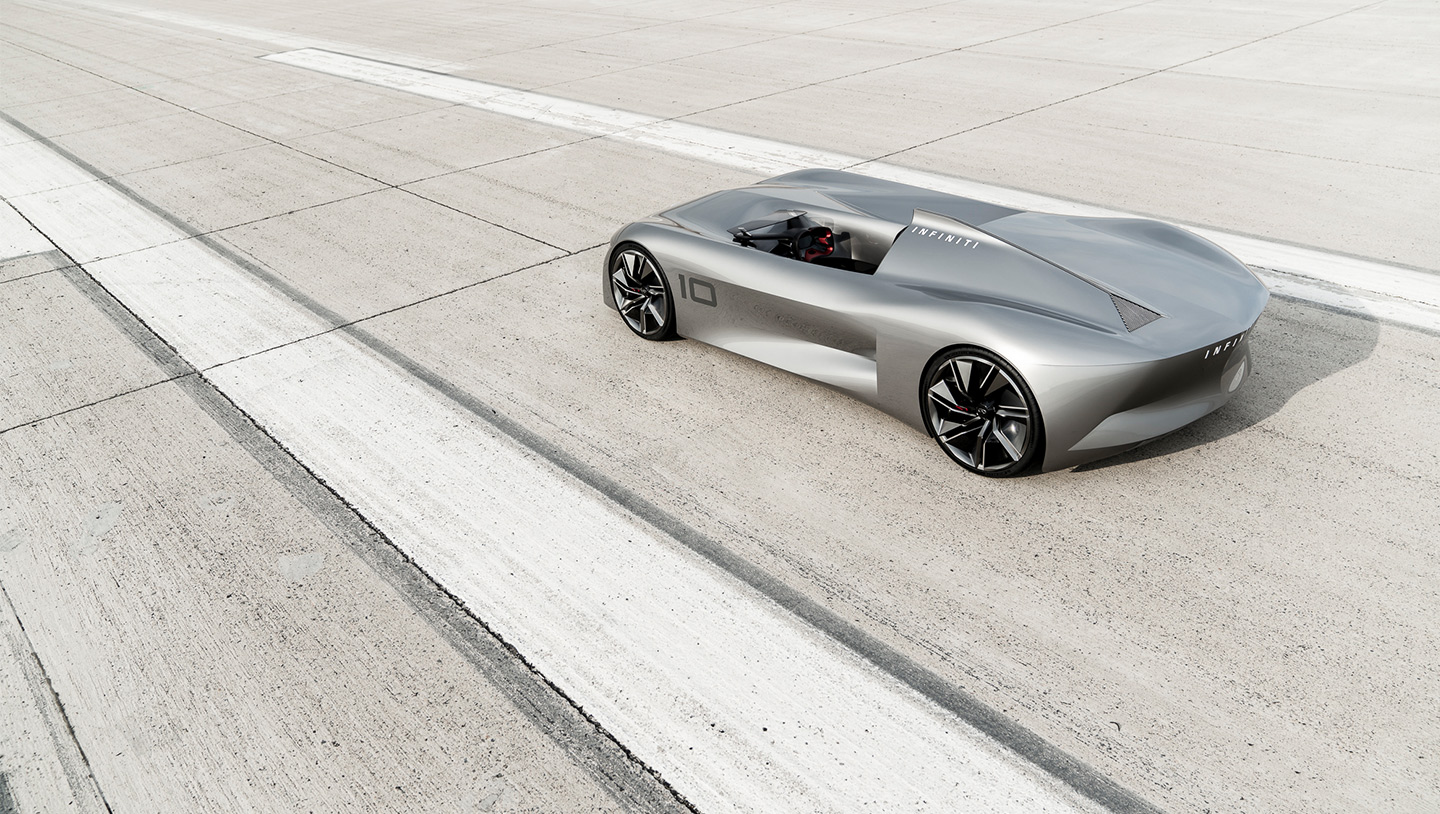 Prototype 10
Inspired by the potential of electrified performance, the Prototype 10 concept re-imagines the classic speedster to represent our passion for thrilling performance and pure driving pleasure.
---
Performance of the Highest Order
Prototype 10 shows our intent for future INFINITI performance — illustrating a dynamic fusion of our desire to electrify our cars, and the promise to deliver supreme driving satisfaction.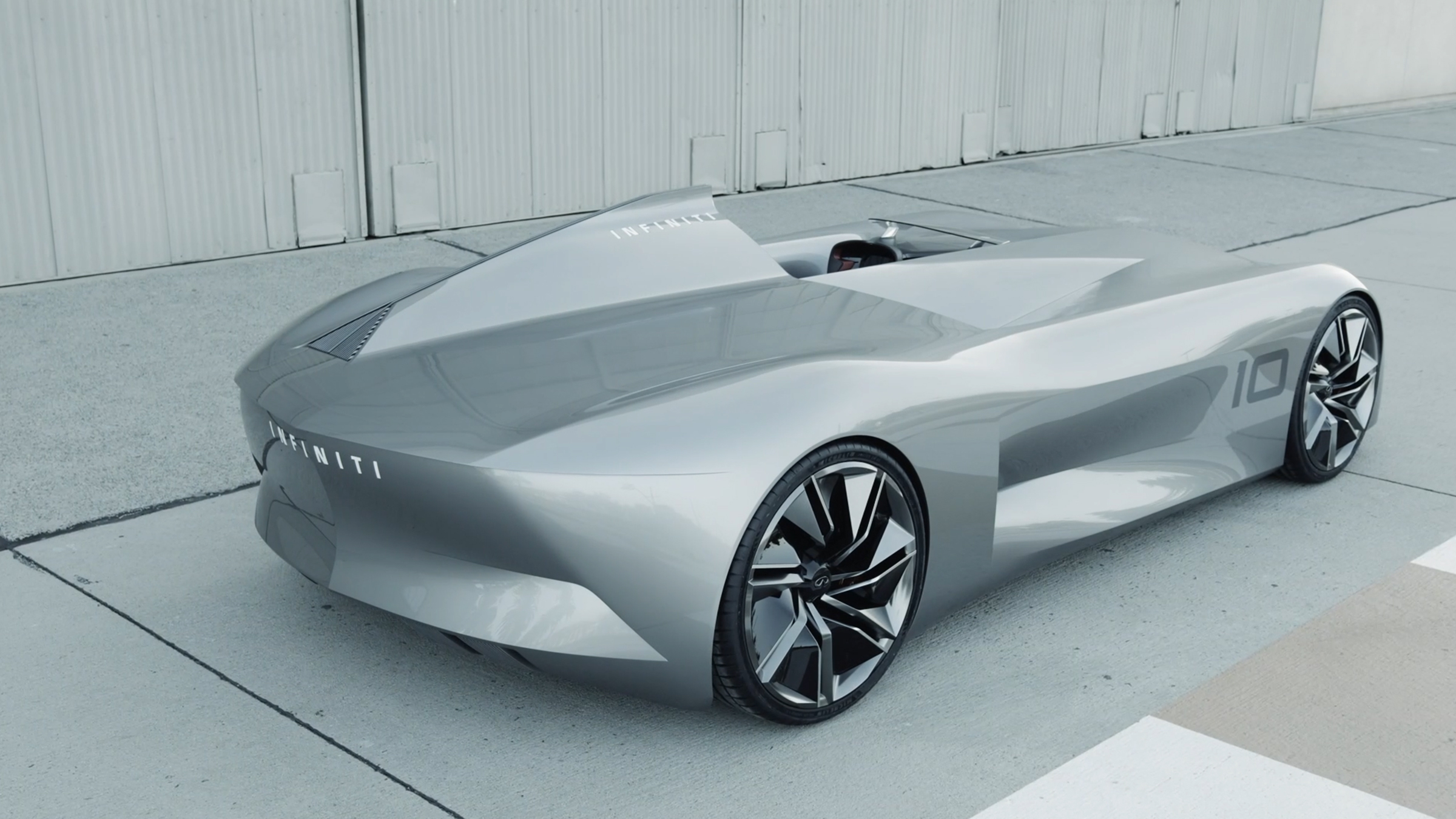 Reigniting High Performance
Taking its cue from high-performance early speedsters, Prototype 10 points to the delivery of exhilarating off-the-line acceleration and pulse-racing speeds in the smartest way possible.

Demonstrating the possibilities of our future powertrain technologies, Prototype 10 will inspire new pure electric and e-POWER vehicles — harnessing the full potential of ultra-low emission technology.

Punctuated by geometric lines, Prototype 10's bodywork alludes to the sudden acceleration of an electrified powertrain, which can immediately deliver 100% of available torque with a push of the accelerator pedal.

"Prototype 10 highlights the shift towards powertrain electrification for INFINITI. In the near future our cars will offer high performance, extended driving range and the intelligent management of energy."
Roland Krueger, former President, INFINITI
An Outer Expression of Inner Power
Prototype 10 imagines a stunning new form that telegraphs the performance benefits of advanced electrified powertrains with a more purposeful speedster configuration. A bold representation of the way INFINITI vehicles may look in the future.
Connecting Form and Function
Prototype 10's performance is expressed by its low speedster layout and confident proportions. Its long bonnet and open cockpit are contrasted by a dramatic fin behind the driver's seat.
The concept's design is characterized by clear, concise lines and ultra-modern shapes that accentuates its flowing bodywork.
The idea of clean motoring is carried over in Prototype 10's uncluttered, skyward-facing surfaces. Simple, angular details create a strong visual link to the uninterrupted flow of electric propulsion.
The single-seat (monoposto) race car-inspired cockpit represents the performance intent of all future electrified INFINITI models, with attention focused solely on the driver.
"Our electric vehicle architecture represents a turning point for our design teams, a chance to present alternative proportions with different shapes. This new design language prioritizes clean, efficient lines with which we can articulate a new, confident design language."
Roland Krueger, former President, INFINITI
"Prototype 10 provides a link between where INFINITI stands now, and where we are heading. For us, electrification means performance — our cars will be powerful, efficient, and highly rewarding to drive, and Prototype 10 is a physical representation of our electrified future."
Karim Habib, Executive Design Director, INFINITI
Driven by desire, our concept cars challenge conventional approaches to design and performance. Take a look at the concept vehicles that preceded Prototype 10, and what we have planned for the future.

Our innovative mindset means we always strive to blend artistry and craftsmanship with the most advanced technology we can — designed to enhance your driving experience in its purest form.

Continue Exploring Concept Cars
QX Sport Inspiration
Challenging the status quo, the QX Sport Inspiration masterfully evolves INFINITI's design language. A statement of intent, establishing INFINITI's new and farsighted direction for mid-size SUVs.

Q Inspiration
The future of driving is in your hands. Engineered for the future, and designed for the best part of the drive.

Concept vehicle not available for purchase.